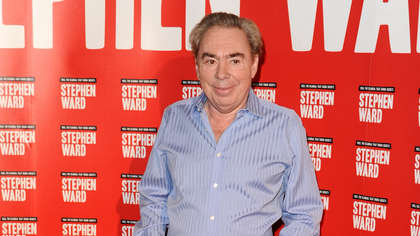 Andrew Lloyd Webber has criticised the UK government's current COVID regulations after his latest show, Cinderella, was forced to close due to a positive test from a cast member.
July 19th was hailed as "Freedom Day" in the UK, with live entertainment venues being allowed to return to full capacity.
Ironically, on what should have been a return to normal for Lloyd Webber, he found his West End production of Cinderella forced to shut its doors. The show was postponed indefinitely after a cast member tested positive on Saturday, forcing the rest of the cast and production staff to self-isolate.
The musical theatre legend has criticised the current rules around self-isolation, describing the situation as "completely, completely untenable."
"We cannot function with this current system," Lloyd Webber said at the Gillian Lynne Theatre on Monday. "We can't isolate every time somebody may or may not have it. It just simply doesn't work."
"I say this from the heart, I am seeing the profession I have loved, I'm seeing musical theatre I think I had a small part in pioneering in this country at a time when frankly the British were not considered to be people who could do musicals," he continued. "And I am just saying it with passion – please, please will this Government for once listen to us. Listen. We do know what we're doing, we do. Just listen and knock all these platitudes and endless, endless blunt instruments that don't apply across the board."
Lloyd Webber said he has tried to work with his government to prove theatres are safe. He pointed to the "best ventilation system you can find" at the Gillian Lynne.
"We can't go on like this, theatre is now on its knees, there's no way forward," he mourned.
Prime Minister Boris Johnson "doesn't seem to grasp what we're about in theatre," according to Lloyd Webber.
Lloyd Webber dismissed suggestions that he might move Cinderella to Broadway, where such restrictions have now been lifted.
"I'm not going to do that, I can't do that," he said. "I'm a Brit and we've got a fantastic cast and so we will open here, but who knows? 2084? I don't know."
Lloyd Webber went on to accuse the government of failing to recognise the importance of theatre in the UK.
"I do worry at the end of the day that the Government doesn't regard theatre as anything other than nice to have," he said. "I don't think they have a clue of what the real economic value to the country theatre is, and indeed all forms of live entertainment."
"This is the last chance for this Government to show they have the remotest interest in theatre," Lloyd Webber warned. "There comes a time, I suppose, where we simply won't be able to go on. There does come a time. We really are pretty much at that point now. I am determined to keep it going for as long as we can but there does come a point where we can't."
Cinderella opened with preview performances in June with a 50% audience capacity after Lloyd Webber rejected an offer for the show to be one of the UK's pilot test events.
The musical is written by Promising Young Woman filmmaker Emerald Fennell and described as a "complete reinvention" of the classic tale.
The UK's Culture Secretary Oliver Dowden expressed his regret at the show's cancellation.
"I'm deeply disappointed to hear the news about Cinderella," he wrote on Twitter. "I know how much effort ALW has put into this production, and how much it meant to the cast, crew and theatre lovers alike. Whilst the need to self isolate is an economy wide issue, I recognise the particular challenges it presents to the arts and I'm strongly making the case for that in government. In the meantime, I hope to see as much open as possible and, where shows are restarting, please give your support by buying a ticket."