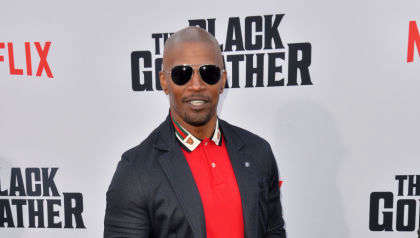 A spokesperson for Jamie Foxx has dismissed rumours that the actor was left "paralysed and blind" by the Covid-19 vaccine.
Foxx was rushed to hospital after suffering from a "medical complication" in early April.
Speaking on the Ask Mr Drew podcast, gossip columnist AJ Benza had claimed that the actor's illness was down to him taking the Covid-19 vaccine, insisting that his source was "somebody in the room".
"Jamie had a blood clot in his brain after he got the shot. He did not want the shot, but the movie he was on, he was pressured to get it. The blood clot in the brain caused him at that point to be partially paralysed and blind", Benza said.
Following Benza's allegations, anti vaxxers used these rumours surrounding Foxx's illness to support their conspiratorial views.
"Those of us who spoke against the mRNA shot were attacked in every imaginable way. I am infuriated a decent person like Jamie Foxx fell victim to Big Pharma because a movie set is still dumb enough to mandate their cash cow clot shot", Charlie Kirk who founded conservative non-profit organisation Turning Point USA, tweeted earlier this month.
However, a spokesperson for Jamie Foxx has shut down these rumours, describing them to NBC as "completely inaccurate" in a statement.
Following his spell in hospital, Foxx's daughter confirmed that the actor has left hospital and is "recuperating".