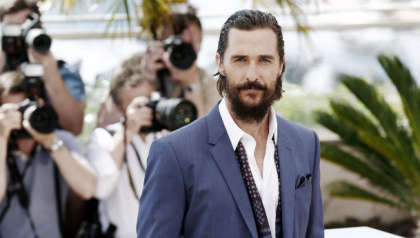 Actors Matthew McConaughey and Woody Harrelson have been offered a DNA test to put to rest rumours that the pair are half brothers.
These rumours first came to light when McConaughey's mother once spoke to her son Matthew about her close connection to Woody Harrelson's father. It is possible that they pair's paths may have crossed in West Texas, in the same year that McConaughey's parents were divorcing, which incidentally also saw the actor's birth, 1969.
Matthew McConaughey has always been outspoken about his parents tumultuous relationship, which saw them married three times, and divorced twice. McConaughey's father died from a heart attack in 1992.
Following this, retired TV personality Maury Povich and mutual friend of the pair, has even offered to "come out of retirement" to help Harrelson and McConaughey find out once and for all how close they really are.
After being shown the video of this, McConaughey commented, "I don't know if we're gonna do it on your show, but I like the way you're thinking".
Speaking back in April, Woody Harrelson had revealed that his friend Matthew, is not as keen to find out if they are half-brothers or not.
"For him, it's a much more big deal. I mean, he feels like he's losing a father", he said.
That same month, McConaughey added, "Look, it's a little easier for Woody to say, 'Come on, let's do [DNA tests],' because what's the skin in it for him?".