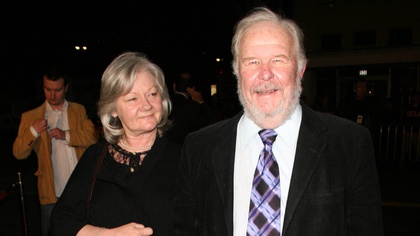 Known for his acclaimed roles in some of the most iconic movies of the 1970s, Ned Beatty passed away on Sunday, June 13th in Los Angeles. The actor was surrounded by his family and loved ones and is reported to have died from natural causes.
Born on July 6th, 1937, in Louisville, Kentucky, it initially seemed the young Beatty was set for a singing career. After impressing in gospel groups and barbershop quartets, the teenage Beatty won a scholarship to join the choir at Transylvania University in Lexington, Kentucky.
While in college, Beatty turned his attention to acting, making his stage debut at 19 in a Berea, Kentucky production of Wilderness Road. He would become a regular member of the acting troupe at the Barter Theatre in Abingdon, Virginia. Throughout the 1960s he established himself as one of the most impressive stage actors in the American South.
In 1972, Beatty made his screen acting debut in director John Boorman's backwoods thriller Deliverance. Boorman claims that upon reading the script, Beatty exclaimed "Are you really going to make this crap?", but despite his disdain, Beatty accepted the part. The role of Bobby, one of four suburban men who find themselves pursued through the woods by murderous rednecks, would become Beatty's most infamous part thanks to a controversial scene in which Bobby is sexually assaulted by two men. Speaking of the scene, Beatty claimed he was "really proud of it. I think it scared the hell out of people."
The 1970s would prove Beatty's most fruitful decade. American cinema had undergone a revolution and actors were no longer required to fit a rigidly handsome template. As such, Beatty found his unconventional looks in high demand in both films and TV.
He followed Deliverance by appearing alongside Paul Newman in revisionist western The Life and Times of Judge Roy Bean. A year later he showed his sinister side, reteaming with his Deliverance co-star Burt Reynolds in the role of an antagonistic small town sheriff in White Lightning.
In 1975 he found himself among the ensemble cast of director Robert Altman's country music drama Nashville, playing the husband of Lily Tomlin. 1976 saw Beatty nominated for a Best Supporting Actor Oscar for his role as a ruthless conglomerate boss in Sidney Lumet's biting media satire Network. The role saw him deliver a memorably prophetic three-minute speech in which his character speaks of how America is really run by large corporations. The same year he played the chief investigator into the Watergate scandal in director Alan J. Pakula's journalism drama All the President's Men.
It wasn't all serious drama for Beatty however. Throughout his career he regularly showed his comedy side playing goofy characters in movies like The Big Bus, Silver Streak and Back to School. His most famous comedic role came in 1978 when Superman director Richard Donner cast him as Otis, the bumbling sidekick to Gene Hackman's villainous Lex Luther.
In the 1980s, as Hollywood shunned the social and political dramas of the previous decade in favour of blockbuster spectacles, Beatty found himself struggling to find good roles. Forced to accept parts in lower budgeted action and horror movies, Beatty nonetheless committed himself fully to whatever project he took part in. One of his most amusing roles saw him play the over the top villain of 1987 revenge thriller Rolling Vengeance.
Unlike many actors of his generation, Beatty was more than willing to take roles on TV. He made memorable guest appearances in such hit shows as Petrocelli, M*A*S*H, Hawaii Five-O, The Rockford Files, Tales of the Unexpected, The Streets of San Francisco, Alfred Hitchcock Presents and Murder She Wrote.
It was TV that gifted Beatty arguably his final great role. From 1993-95 he played Stanley Bolander, one of the detective protagonists of groundbreaking cop show Homicide: Life on the Street.
The Irish-American actor got to explore his ancestral roots in 1990 when he came to Ireland to play the role of legendary tenor Josef Locke in biopic Hear My Song.