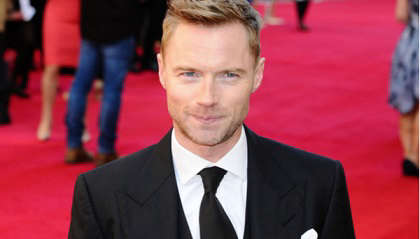 Ronan Keating's upcoming solo album is to include hits from well known artists including U2, Van Morrison, Paul Brady, Ash and Mary Black.
The album is called Songs From Home and will be released on November 12.
My brand new album 'Songs From Home' is available for pre-order now. A passionate collection of songs that remind me of my home, Ireland.

Pre-order your limited signed edition from my official store, released on November 12: https://t.co/g2IJDB6cwx pic.twitter.com/r8F2kmc7X0

— Ronan Keating (@ronanofficial) October 5, 2021
The former Boyzone singer's record label Decca Records said that this album features 12 songs handpicked by Keating himself. It will also include a new single written by the Life Is A Rollercoaster singer.
The tracklist is as follows.
Raglan Road
Into The Mystic
Where The Streets Have No Name
The Voyage, The Island
Summer In Dublin, Guiding Light
No Frontiers
The Blower's Daughter
The Parting Glass
Heyday
Set In Stone.
"The album toasts Ronan Keating's love for Irish music, as well as its continued significance in his life", Decca Records said.
"Celebrating traditional poetry and folklore alongside contemporary pieces, Songs From Home forms the ultimate soundtrack to Ronan's personal story. Masterfully, Ronan weaves between unheard tales of his youth to artists embedded in Ronan, and Ireland's, substantial musical heritage".
Thank you so much for the amazing response this morning! The first track, 'The Blower's Daughter', will be released on Friday!

You can pre-order your limited signed edition from the official store now: https://t.co/g2IJDAOB7X pic.twitter.com/xkqlME0kla

— Ronan Keating (@ronanofficial) October 5, 2021
Ronan Keating has enjoyed quite a successful solo career since Boyzone. Over the years, he has released tracks like "Lovin Each Day", "Life Is A Rollercoaster", and "Breathe".
He is well versed in the world of successful covers. Who can also forget his cover of "When You Say Nothing At All" for the classic rom-com Notting Hill.
He has also appeared as a judge on X Factor and The Voice in Austrailia, along with hosting Magic FM's Breakfast Show and BBC's The One Show.