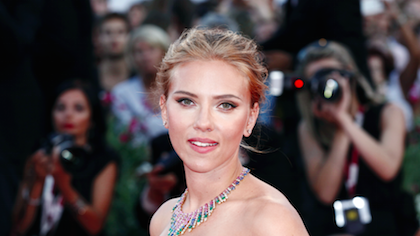 Scarlett Johansson has sued Disney for breach of contract after the company released the actress' 'Black Widow' film on its streaming platform Disney+ at the same time as its cinematic release.
The latest film in the Marvel Cinematic Universe set pandemic era box office records, grossing $218m on its opening weekend in theatres.
Since then, however, box office receipts have plummeted and Johansson argues that she has been deprived of potential earnings.
Disney has since responded to the star's lawsuit, saying it had "fully complied" with Johansson's contract and that her case held "no merit whatsoever".
Johansson reported that Marvel Studios - which is owned by Disney - promised her that Black Widow would be a "theatrical release".
She claims that she was under the impression that this meant the film would remain available in theatres-only for a certain "window" before being available for streaming - traditionally for a 90 day period.
Several Hollywood studies have elected to bypass theatrical releases altogether since the pandemic hit last March, shutting down a massive percentage of theatres worldwide. Instead studios have opted for online releases to streaming platforms.
Now that the majority of theatres have reopened, companies like Disney and Warner Bros. have elected to maintain a hybrid release strategy for their blockbuster films.
Black Widow reportedly raked in $80m in North American ticket sales and $78m internationally on its first weekend, with an additional $60m in earning coming from Disney+ Premier Access rentals.
Johansson, whose salary was dependent on the film's box office performance, reportedly lost out on $50m due to the hybrid release, according to media reports.
Disney countered the actress' claims, saying that the hybrid release had "significantly enhanced [Johansson's] ability to earn additional compensation on top of the $20m she has received to date".
The company added in a strongly worded statement that that star's legal action was "especially sad and distressing in its callous disregard for the horrific and prolonged global effects of the Covid-19 pandemic".
Screen Daily editor Matt Mueller reported that he suspects the dispute will be settled behind closed doors and that an actual court hearing is unlikely.
"It's surprising that Disney let it get to this stage, given Warner Bros was able to negotiate with the talent that it irked when it made the decision to go day-and-date between cinemas and HBO Max for its 2021 titles," he told BBC News.
"I think other stars will look at how Scarlett's case proceeds, while studios with complementary streaming platforms will already be looking at what contractual steps they need to take to ward off further actions."
Regardless of the outcome, however, Mueller doubts we will see any alterations to Disney's hybrid release scheme.
"Disney's ultimate boss is its shareholders and they want Disney+ to be hugely successful," he continued.
"But it might make the top talent think twice if they don't think they can score the mega-paydays that theatrical releases have been able to generate for stars in the past."