Competition live: 25th-29th March
Tune in to the Nikki Hayes Show this week for your chance to win a great prize from Ultimate Health Clinic
We are giving away a €100 voucher every day to be used on treatments, such as:
Food Intolerance testing
Allergy Testing
Salt Therapy
Cupping massage therapy
Weight Management
Inch loss body wraps, Health Screening etc.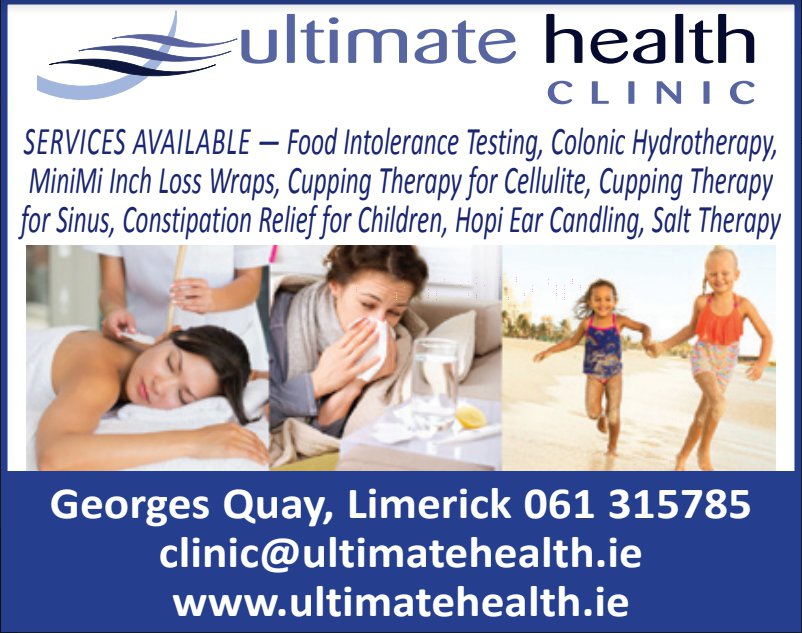 Celebrating World Health Day on April 7th with Ultimate Health clinic Limerick
With it coming up to World Health Day April 7th The Ultimate Health Clinic Limerick are giving you a chance to win a €100 voucher everyday on the show so you can look after your health.
Health and Well- being, looking after your body from the inside, out! We operate a private, confidential clinic, located in the city
To facilitate working clients they are open 9.30am to 8pm Monday to Thursday, Friday until 4pm and we offer our services at the weekend by request at no extra cost.
Every day we cleanse the outside of our bodies; we need to also focus on cleansing our insides. They will help their clients detox, assist gut issues, banish problem foods, and assist with weight, sinus or chest issues.
They are caring for their clients for the last 20 years, Adults and children, and are constantly up-skilling to introduce new and exciting treatments to benefit their clients both current and new.