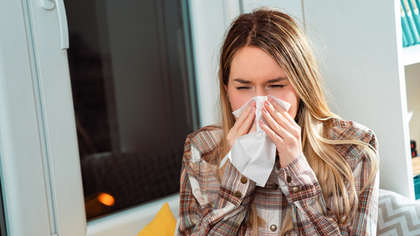 At-risk people including the over-65s and pregnant women are being urged to accept the free flu vaccine.
Between 200 and 500 people are die from the flu every winter in Ireland with up to 646,000 global deaths each year.
Five at-risk groups have been targeted. These are the over-65s; pregnant women; children aged 2-17; healthcare workers; and anyone with medical conditions that could be further complicated by the flu.
Anyone in the five groups can receive the vaccine free from their GP, pharmacies and occupational health departments. Most healthcare workers will be offered the jab at their workplace.
The risk of infection can be reduced by up to 60% through flu vaccines.
This year four flu strains have been identified as most likely to circulate in Ireland throughout the winter.
"Although the severity of the flu season can vary, we know that people aged 65 and over are most likely to be impacted and have an increased likelihood of severe illness, being admitted into hospital or dying from flu when compared to the general population," said Dr Aparna Keegan, of the HSE National Immunisation Office. "The flu vaccine is the best protection against flu this winter."
Health Minister Stephen Donnelly reminded the public that as we come out of the COVID-19 pandemic, traditional viruses remain a threat.
"Flu is an unpleasant illness for the majority, but for some it is life-threatening, resulting in serious illness and hospitalization," he said. "Regrettably, up to 500 people in Ireland die from this disease every year. This is why it is so important that, if you are eligible to get a flu vaccine, you do so as soon as it is offered to you. A flu vaccine will protect those aged over 65 from the very worst effects of flu. For healthcare workers, getting vaccinated means protecting themselves, their patients, and their families."