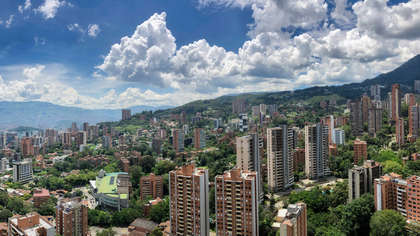 Colombia's most-wanted drug trafficker, Dairo Antonio Usuga, known as "Otoniel", has been captured.
Usuga, head of Colombia's largest drug gang, the Gulf Clan, was caught by officials at one of his gang's outposts at Necocli, near the Panama border.
Comparing Usuga's capture to "the fall of Pablo Escobar," Colombia's president Ivan Duque hailed the news as "the hardest strike to drug trafficking in our country this century."
One police officer was killed in the operation, which involved over 500 soldiers and 22 helicopters. Duque called it "the biggest penetration of the jungle ever seen in the military history of our country."
Colombia's police chief Jorge Vargas said the operation was carried out with satellite aid provided by "agencies of the United States and the United Kingdom."
Usuga is said to have been hiding in the jungle, refusing to use a telephone to avoid detection.
The drug lord now faces extradition to the United States, where a bounty of $5 million had been placed for information leading to his capture.
The Colombian government have been steadfastly disrupting the operations of the Gulf Clan, which is said to operate in almost 300 municipalities in the country. The group has been blamed for most of the nationwide violence since the signing of a peace pact with FARC guerillas in 2016.