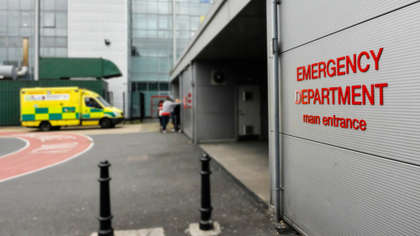 The government has asked health officials to provide detailed data regarding the breakdown of COVID-19 case numbers and hospitalisations as it reviews next week's planned lifting of restrictions.
On Wednesday there were 2,066 new cases, up from 1,466 on Tuesday. The latest figures show 408 COVID-19 patients in hospital with 69 in the ICU.
Deputy Chief Medical Officer Dr Ronan Glynn accused the unvaccinated of having a "disproportionate" impact on hospitalisations.
"Unfortunately, there are still just under 300,000 adults who have not come forward for vaccination and a further 70,000 people have received just one dose of a two-dose schedule," he said.
The government is now seeking a breakdown of the number of vaccinated people testing positive for the virus. They also seek clarity on the numbers of patients hospitalised due to infection as opposed to patients testing positive while in hospital.
The HSE has warned that it is under increasing pressure heading into winter. Non-Covid services are feeling the strain due to the increasing Covid hospitalisations.
"Across our whole system last night we had less than 100 beds available and that will impact on a day-by-day basis in any surge whether it's to do with Covid or flu season, sometimes we have to scale back on activity," said Chief Operations Officer of the HSE Anne O'Connor.
O'Connor urged people to take both the COVID-19 and flu vaccines.
Addressing the Fianna Fáil parliamentary party last night, Taoiseach Micheál Martin expressed his concern over the "sudden increase of cases."
"There are some issues of concern with Covid," he said. "There has been a sudden increase of cases and mortality has been rising compared to the summer. We will weigh everything up as we progress towards the 22nd."
A decision is to be made on the lifting of restrictions at a cabinet meeting next Tuesday.