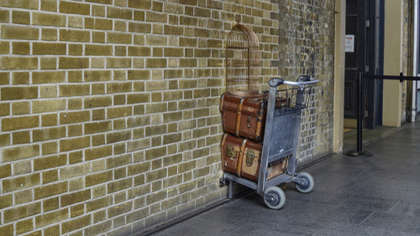 The 20th anniversary of the cinema release of Harry Potter and the Philosopher's Stone is being celebrated with a travelling installation.
The Platform 9 ¾ Trolley is located at London's Kings Cross station, where it is accompanied by a Harry Potter shop, and attracts over two million visitors a year. The installation allows fans the opportunity to recreate the moment from the film where Harry Potter runs through a magical brick wall in the station.
A replica of the trolley is now on tour around the UK and Ireland to mark the film's 20th anniversary.
The tour kicked off in Edinburgh on October 16th before moving on to Birmingham on October 23rd. It's currently stationed at Cardiff until the 29th when it moves to Belfast. From November 5th to 7th the trolley will be in place at Dundrum Town Centre.
Harry Potter and the Philosopher's Stone returns to cinemas in the UK and Ireland this Friday to mark the anniversary. Movies @ Dundrum cinema will be screening all films in the series on November 6th and 7th to coincide with the arrival of the trolley.