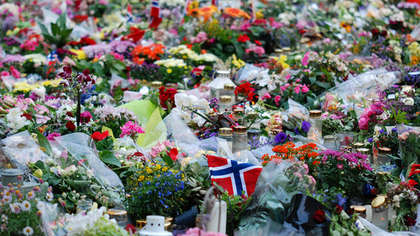 Norwegian mass murderer Anders Behring Breivik is set to seek parole on Tuesday.
Breivik has been imprisoned for the last 10 years following his massacre of 77 people in 2011, and he now claims he is no longer a threat to society.
Experts believe Breivik has no chance of a successful parole but are worried he may use the proceedings to air his extremist views.
Psychologist Randi Rosenqvist has been assessing Breivik throughout his time in prison.
"I can say that I do not detect great changes in Breivik's functioning," she said. "In principle and practice someone seeking parole would have to show remorse, and to show that they understand why such acts cannot be repeated."
Berit Johnsen, research professor at University College of Norwegian Correctional Service, believes Brievik's parole is "unlikely to happen."
"I think it is quite obvious that there still is a high risk that he will commit new crimes if he is released," Johnsen said.
Breivik's parole hearing will last for three days, with the verdict announced several weeks later.
Under Norwegian law, Breivik is entitled to seek parole on an annual basis after 10 years of imprisonment.
"According to Norwegian law he has a right now to go before a judge," said Breivik's lawyer, Oystein Storrvik. "He emphasises that right. And his motivation for doing so is difficult for me to have an opinion on."
According to Storrvik, Breivik will call Swedish neo-Nazi Per Oberg to speak in his defence. While in prison, Breivik has been in contact with far-right figures from Europe and the US.
Storrvik also warned that his client is not expected to show any remorse.
"According to the law there is no obligation that you have to be remorseful," Storrvik outlined. "So it is not a legal main point. Absolutely the legal problem is whether he is dangerous."