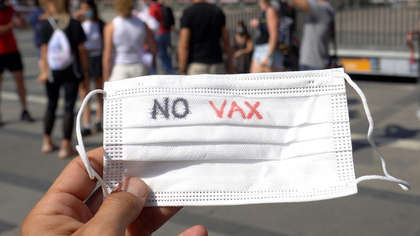 National Immunisation Advisory Committee (NIAC) chair Professor Karina Butler has said that rather than pushing for a booster campaign, the focus should be on convincing the unvaccinated to get jabbed.
Despite the high vaccination rate, COVID numbers are on the rise again, casting doubts over whether the government will go ahead with the final lifting of restrictions on October 22nd.
The government is to review the situation on Tuesday, following a meeting of Nphet chiefs on Monday.
Minister for Further and Higher Education Simon Harris has pushed for extending the current booster campaign, which targets specific vulnerable groups, to the wider population. He cited Israel as an example.
"They faced similar choices and they went for the extension of the vaccine certs and a widespread booster vaccine programme and they seem to have managed to make great progress with the virus," he said.
Karina Butler believes the focus shouldn't be on boosters, but rather on addressing the "elephant in the room" that is the 300,000 Irish residents who remain unvaccinated.
"We really have to look as to why that is the case and fill the gaps in the knowledge, the gaps in information to give those people the confidence and the trust that getting vaccinated is the way forward," she said.
Butler said that immunity among the vaccinated has "held up very well. But for certain groups, and that's what we have to focus on, there may be that beginning of waning when you get beyond six months, six to eight months."
The government is seeking data from NIAC on which groups should be added to the booster programme.
Butler said she can give no guarantee that such information would be ready by next week's meeting.
"When the advice is complete, when it is robust, if that is sooner, if that is this evening (it won't be)…I won't give a specific date," she said. "The advice will be given as soon as we have it ready to go."