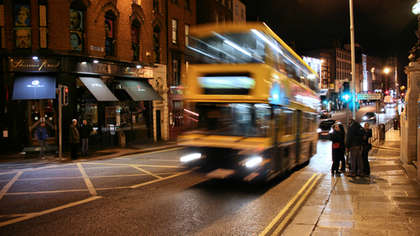 The National Transport Authority (NTA) has confirmed that Dublin's Nitelink service will resume if the planned reopening of nightclubs goes ahead next Friday.
The NTA had previously said it had no plans to resume the service. Following a backlash, it has now announced that the Nitelink service will return on October 22nd, provided the government carries out its plan to reopen nightclubs and late night bars.
The Nitelink has been dormant throughout the pandemic, having ceased services back in March 2020.
The Department of Transport has now said that 16 Nitelink services will operate from October 22nd "subject to a final government decision on further reopening of the economy."
"The restoration of Nitelink will provide public transport in Dublin on weekend nights into the early hours of the morning," said Minister Eamon Ryan. "While government still has to make a final decision on reopening after considering public health advice, we want to be ready to provide a service when the night-time economy reopens."
Dublin Bus CEO Ray Coyne took to Twitter to announce that he was "delighted" with the return of the Nitelink.
"Good for business, customers and the city," he wrote. "Another positive step forward."
The government's plan is to lift remaining restrictions from next Friday. This would include allowing licensed establishments to operate beyond 11.30pm. With virus numbers growing, much doubt has been cast on whether such restrictions will actually be lifted.