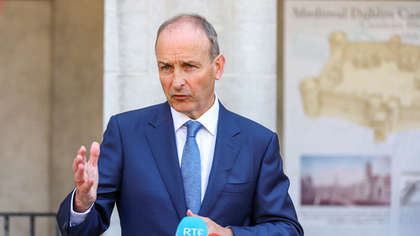 Taoiseach Micheál Martin is set to deliver a "clear and comprehensive" statement on the easing of pandemic restrictions on Friday evening.
The National Public Health Emergency Team (NPHET) is meeting on Thursday afternoon with expectations that they will approve the lifting of the current 8pm curfew on hospitality and indoor events, along with a partial return to workplaces.
The cabinet is expected to meet on Friday to review NPHET's conclusions.
Martin has said he hopes to give a "clear and comprehensive statement about what lies ahead both in the short term and in the medium term" on Friday evening.
In a planned address to the nation, the Taoiseach will lay out "how we intend to now live with Covid over the next while, because Covid isn't going away. But we are definitely into a newer phase of it."
"We have come through Omicron better than we might have expected prior to Christmas," Martin said. "The combination of the booster campaign and vaccination, allied with the fact that Omicron does not seem to be as virulent as Delta and previous waves, has meant that the impact on people in terms of severe illness and deaths and ICUs has been much less. So therefore, I think people can be positive, we can be positive."
"I think we can look forward to an earlier lifting of restrictions than we might have anticipated," he added.
Donall O'Keeffe, Chief Executive the Licensed Vintners Association, said publicans would make "every effort" to return to later trading hours this weekend if approved by the government.
"Various public health experts and senior representatives of the Government are indicating that the country has entered a new stage of the pandemic, so we are hopeful there will be good news for the reopening of hospitality in the coming days," he said. "We would like to see the Government moving swiftly and allowing for the recovery of hospitality to begin as soon as possible."