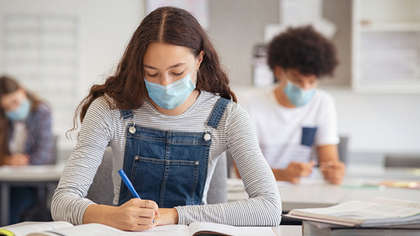 A survey conducted by the Irish Second Level Students' Union (ISSU) has resulted in 68% of second level students expressing a desire for a hybrid exam to be implemented this year.
Over 40,900 students across the country responded to the online survey.
As of now, the plan is for Leaving Cert exams to return to their pre-pandemic format.
The class of 2021 had the option of sitting a traditional exam or receiving accredited grades, something most students appear to be in favour of being implemented again this year.
Taoiseach Mícheál Martin said the government has not ruled out maintaining the hybrid exam and that a decision will be made in the coming weeks.
Last week the Department of Education revealed adjustments to the 2022 Leaving Cert to account for disruptions caused by the pandemic. Students unable to sit the main set of exams can take alternative exams held at a later date.
"It has been made abundantly clear that students would like to see a hybrid model implemented for the State Examinations 2022," ISSU President Emer Neville said of the survey results. "The ISSU State Examinations Survey for 2022 saw double the engagement from students than previous years. We are calling on the Department of Education to hear the voice of students, who are continuing their education in abnormal times. With the levels of disruptions, mental health pressures and classes missed, we are asking the minister to introduce a hybrid model for state examinations."