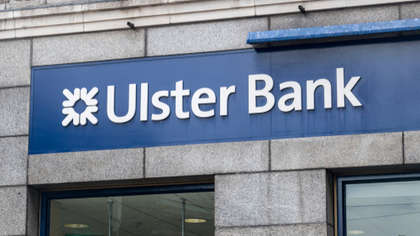 Ulster Bank will begin to contact its remaining customers early next year, giving them a six month deadline to close their accounts.
The bank has assured customers that no action is required just yet.
Ulster Bank will begin its withdrawal from Ireland next year.
"Ulster Bank will contact customers directly when they need to take action and this will commence in early 2022 when we plan to begin to serve formal account closure notice to current account and deposit account customers," Ulster Bank said in a statement. "In advance of this, Ulster Bank is encouraging customers to consider their options, avail of supports and get ready to choose a new banking provider, particularly for customers' current and deposit accounts. Over the coming months we will engage with customers, including those who might need more support, to help them to get ready to choose a new provider, with a view to move and close their accounts. However, if customers are ready now, we are encouraging them to review their Ulster Bank accounts or make an appointment to review their Ulster Bank accounts."
Today is the last chance for any new or existing Ulster Bank customers to apply for services, with the exception of mortgages.
Ulster Bank will not be closing any of its 88 branches until the second half of 2022.
"We committed to giving customers up to 6 months' notice to facilitate key changes for them and in this context, today we are signposting the expected timelines for current and deposit account customers to choose a new bank, move and close their accounts with Ulster Bank," said Ulster Bank Chief Executive Jane Howard. "While customers do not need to take action at this time, we know that some customers will want to get ready to start this process now and we will facilitate this for any customer who needs it. We want to encourage customers to spend some time thinking about the best options for them and we wish to support them on this journey as much as possible."