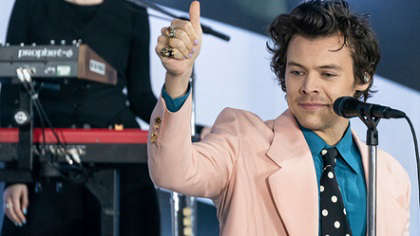 Organisers for Harry Styles' upcoming "Love On Tour" in the US will require attendees to wear facemasks at all times. It is one of the many safety protocols for attending these shows.
The organisers also revealed that attendees must show either proof that they have been fully vaccinated against Covid-19 or a negative PCR test withinn 48 hours of entering the concert.
The former One Direction band member's gigs at Madison Square Garden and California's SAP Center in San Jose will only accept proof of vaccination. You will not be allowed entry with a negative PCR Test only.
"Requiring testing, or proof of vaccination, is the best way to protect the health and safety of our crew and fans, and is quickly becoming the new standard for concerts around the US. There will be no exceptions to these policies", a statement read.
It also said that venue staff will need to follow the same protocols as concertgoers.
Check out the tour dates below.
LOVE ON TOUR will be going out across the USA this September and I could not be more excited for these shows. As always, the well-being of my fans, band, and crew, is my top priority. pic.twitter.com/6VWHxrfrGK

— Harry Styles. (@Harry_Styles) July 14, 2021
The tour will also see Styles play tunes from his latest album "Fine Line", released in 2019.
FINE LINE. THE ALBUM. OUT NOW.https://t.co/xkqHnAr55E pic.twitter.com/tvEyZjeEWn

— Harry Styles. (@Harry_Styles) December 13, 2019