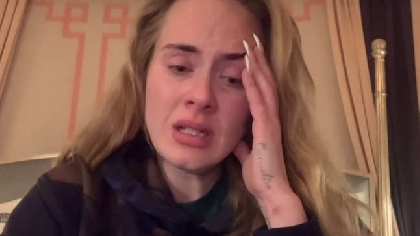 In an emotional video on social media, Adele delivered sad news to fans saying that she has been forced to postpone the opening of her three month-long Las Vegas Residency.
Adele shared the news with fans, holding back tears as she repeatedly said she was "so sorry".
The 'Easy On Me' singer shared that the postponement was caused by "delivery delays and Covid". According to the singer, more than half of her crew are currently unavailable due to the impact of the Covid-19 pandemic. Despite trying "absolutely everything" to keep the show on track, it was "impossible to finish".
The show, titled Weekends With Adele, originally planned to see the British sensation performing at Las Vegas' famous Caesars Palace Colosseum theatre twice every weekend through April.
In the video posted to Adele's Twitter and Instagram accounts, the star gets visibly upset, nearly crying as she delivers the news of delays.
She said: "I'm so sorry but my show ain't ready. We've tried absolutely everything that we can to put it together in time and for it to be good enough for you but we've been absolutely destroyed by delivery delays and Covid.
"Half my crew, half my team, are down with Covid, they still are. It's been impossible to finish the show and I can't give you what I have right now.
"I'm gutted. I'm sorry it's so last minute, we've been awake for over 30 hours now and trying to figure it out and we've run out of time.
"I'm so upset and I'm really embarrassed and I'm so sorry to everyone that's travelled again. I'm really, really sorry.
"We're going to reschedule all of the dates, we're on it right now, and I'm going to finish my show, and I'm going to get it to where it's supposed to be.
"I'm so sorry, it's been impossible, we've been up against so much and it just ain't ready.
"I'm really sorry. Sorry."
Adele's residency was set to begin today, Friday January 21.
Caesars Palace tweeted: "We understand the disappointment surrounding the postponement of Weekends With Adele.
"Adele is an incredible artist, supremely dedicated to her music and her fans.
"Creating a show of this magnitude is incredibly complex. We fully support Adele and are confident the show she unveils at The Colosseum at Caesars Palace will be extraordinary."