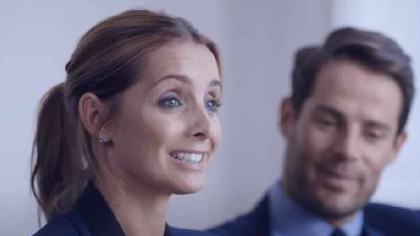 The former "Eternal" singer was married to professional footballer Jamie for 19 years
Louise Redknapp has said she regrets leaving her marriage 3 years after splitting from former footballer Jamie Redknapp. The couple met when "Eternal" were touring with "Take That" in the 1990's and Jamie told his pal Robbie Williams how he fancied Louise and he set them up on a date.
The couple married in 1998 and announced their shock split in 2017 not long after Louise appeared on "Strictly Come Dancing". Now the singer says she wishes she had put in more of an effort to save their marriage. Instead she "ran like the wind and never looked back as she kept running" and has urged anyone thinking about leaving a marriage to pause and think why.
The former singer says she contemplated walking out in front of a bus but then thought about her two sons, Charley and Beau, and realized she couldn't end her life.
In her new autobiography, she said "Slow down and don't run. Because once you run too fast, you can't make up the ground you've lost. Stop, say what you need, say what you think, don't be afraid to say what's really going on. You don't have to be quiet".
Jamie is now dating the Swedish model Frida Andersson Lourie.
Credit Photo: Pandora