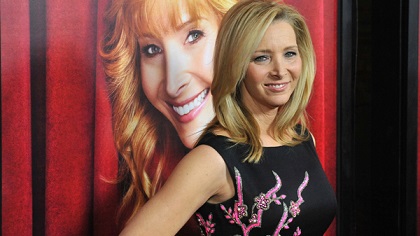 Lisa Kudrow admits to needing a little help from the millions of Phoebe Buffay fans as she used Google to search Smelly Cat chords before her performance with Lady Gaga.
Following her performance on the Friends reunion, Lisa Kudrow has revealed she forgot how to play her hit, Smelly Cat. The actress realised she no longer knew the classic song by her character Phoebe Buffay and admits to looking the chords up on Google.
Airing last week, the star-studded TV event saw the cast reunite together on screen for the first time since the show ended. The six Friends came back to the sitcom's original Burbank studio to share some of their favourite memories from the series. One of the most talked-about moments of the special came from Kudrow, as she performed a rendition of Smelly Cat with Lady Gaga.
Speaking on Ellen this Thursday, the 57 year-old revealed that she had forgotten the chords to her popular song ahead of her performance with Lady Gaga. Kudrow revealed that she had been "really nervous" before her performance of Phoebe Buffay's song after realising she "had to learn 'Smelly Cat' again".
When asked to think back on her performance, Lisa revealed she had an amazing time and said, "That was great!. I was really nervous when I first heard that and then I prepared and I realised I had to learn Smelly Cat again. "I tuned my guitar and then realised I don't know the chords, but I googled it," Kudrow explained.
"All the chords were there [for] 'Smelly Cat'. Thank you world, for posting the chords. So, I learned it and then my throat closed, I was so panicked. I couldn't get anything out, I didn't know what was going to happen, but it worked out."
When asked if she could play any other song on guitar, Phoebe admitted she had only ever learned Phoebe's songs, which she created for the show. In response to being asked, Lisa replied, "No, oh no absolutely not. Just for the show, those ten years and then I was done".
Lisa was also asked by Ellen about the gracious Lady Gaga, who thanked the actress for representing people who are different on Friends. Clamming up and starting to get emotional, Lisa gushed and said, "Yea, that really almost made my cry".
"That blew me away and also coming from her, my son was in grade school, and they were all listening to Lady Gaga, and their whole message was everyone be yourself and just be you."
In the reunion special, Gaga appeared delighted to be performing a duet with Lisa, as she rocked out to the tune. The Born This Way singer gushed over Lisa's character, all while wearing a colourful ensemble, appearing to be inspired by Phoebe's quirky style.