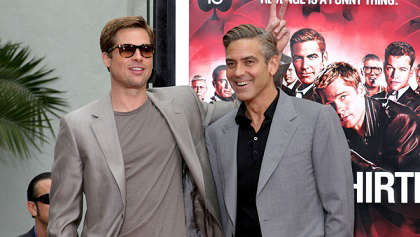 George Clooney and Brad Pitt look set to join forces once again, starring and producing a new thriller Spider Man: The Homecoming.
The film will be directed by Jon Watts who also put together the 2019 sequel Spiderman: Far From Home. This latest deal could see Clooney and Pitt pocket $20 million each.
Clooney and Pitt have worked together on several projects, including the Ocean's trilogy as well as the Coen Brothers directed Burn After Reading from 2008.
This latest film has also been emboiled in a bidding war between Amazon, Netflix, Apple, Universal, Warner Bros, MGM, Lionsgate and Sony.
There may be little information on the film, but Spiderman: Far From Home is said to be the story of "two lone wolf fixers assigned to do the same job".
Jon Watts himself has had notable success with Marvel, with his film Spiderman: No Way Home, to hit the screens on December 17 starring Tom Holland, Zendaya, Benedict Cumberbatch and Alfred Molina.
Jon Watts will write, direct, and produce a new thriller starring Brad Pitt and George Clooney

(via @THR) pic.twitter.com/az6hJKBwMM

— ScreenTime (@screentime) September 24, 2021