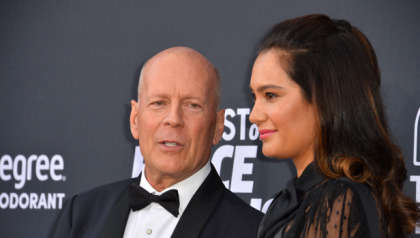 Bruce Willis' wife Emma Heming Willis, has said that it is "hard to know" if her husband is fully aware of his diagnosis of frontotemporal dementia (FTD).
The actor was diagnosed with the illness, which affects the frontal and temporal lobes of the brain, which are responsible for someone's behaviour, personality, language and speech.
The Die Hard star's diagnosis was confirmed by his daughter Rumer Willis via social media earlier this year.
Updating on her husband's illness, Emma Heming Willis told NBC, "What I'm learning is that dementia is hard. It's hard on the person diagnosed, it's also hard on the family and that is no different for Bruce or myself or our girls and when they say that this is a family disease, it really is".
Coming to terms her husband's diagnosis, Emma added, "I think it was the blessing and the curse, to sort of finally understand what was happening so that I can be into the acceptance of what is".
"It doesn't make it any less painful, but... just being in the know of what is happening to Bruce just makes it a little bit easier".
When asked about whether or not Bruce is full aware of his illness, Emma replied, "Hard to know, it's hard to know".
Bruce Willis was previously diagnosed with aphasia in 2022, forcing him to retire from acting.