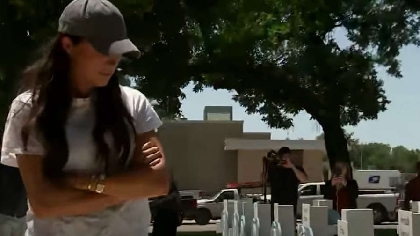 Meghan Markle has laid flowers outside the courthouse in Texas close to where 19 children and 2 teachers were fatally gunned down.
She turned up unexpectantly to pay her respects to the students and staff of Robb Elementary School in Uvalde, Texas, who lost their lives. Like many other celebrities, Meghan will use her platform to urge politicians to take action.
She arrived wearing her jeans, runners and a baseball cap and looked overcome with emotion with just one security man walking nearby. A spokesperson said she visited in a personal capacity, as a mother of two, to offer her condolences to a community experiencing unimaginable grief.