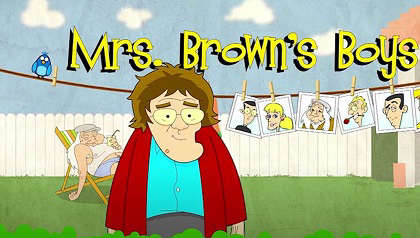 To celebrate its tenth anniversary, Mrs Brown's Boys will return for a one off Halloween special live show.
The hugely popular sitcom will see comedian Brendan O'Carroll returning to the screens as the lovable mammy Agnes Brown.
"It's a huge thrill to do another 'live' show for the BBC", O'Carroll said. "It'll be so wonderful so see them nervous all over again. We will be trying our best to stick to the script, but honestly a script is just a guideline! Bring it on!".
This reunion show also promises "spooky going's on in the Brown household".
O'Carroll's sentiments were also shared by the chief content officer for the BBC, Charlotte Moore.
"I'm thrilled that we are marking the 10th anniversary of the award-winning Mrs Brown's Boys coming to BBC One with this very special live broadcast", she said.
"A huge thank you to Brendan and the team for keeping us all so brilliantly entertained for a decade. I can't wait to see what mischief Agnes and family have in store for us this Halloween".
"Time to give Halloween a special treatment"
A source has even reported that Halloween costumes are also being prepared for the cast.
"Mrs Brown's Boys has done Christmas, now it's time to give Halloween a special treatment", the source said.
"It's a great way to give the sitcom a fresh dose of material and fans will be in for a real treat", they also added. "The show's wardrobe team are going to have a field day, especially when they come to decide what outfits Agnes will wear".
The official Twitter account for the sitcom also confirmed that they are currently working on not one, but two Christmas specials.
After a long years wait we will be going back into the studio to record 2 Christmas specials, if you would like to apply to be in the audience draw pls click on the link ♥️ https://t.co/7WjD2MzNoA

— Mrs. Brown's Boys (@MrsBrownsBoys) September 15, 2021