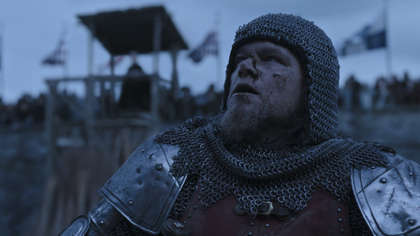 Who can forget the many images of a stranded Matt Damon pottering around Dalkey during the lockdown last year? The Hollywood star found himself stuck in Ireland when the film he was shooting here was forced to suspend production due to COVID regulations.
The film in question was The Last Duel, a historical epic from legendary director Ridley Scott (Alien, Blade Runner, Thelma & Louise).
The 83-year-old filmmaker made his feature directorial debut in 1977 with a movie called The Duellists. Adapted from Joseph Conrad's short story The Duel, that film starred Harvey Keitel and Keith Carradine as a pair of Napoleonic French noblemen who challenge each other to a series of duels.
Now at what is presumably the tail end of his career, Scott has returned to the theme of duelling Frenchmen.
Set in 14th century France, The Last Duel is inspired by the true story of France's last officially sanctioned duel.
Matt Damon and Adam Driver play Jean de Carrouges and Jacques Le Gris, two friends who become deadly rivals. De Carrouges is a famous knight with a reputation for bravery in battle. Le Gris is a Norman squire who commands respect among the French nobility. When Le Gris violently assaults de Carrouges' wife Marguerite (Jodie Comer of TV's Killing Eve), he denies the attack. Rather than remaining quiet, Marguerite risks her reputation by insisting on pressing ahead with charges. To defend his wife's honour, de Carrouge challenges his friend to a duel to the death. The result will have ramifications throughout French society.
The film also stars Damon's long-time buddy Ben Affleck. Their collaboration isn't just in front of the camera here. Along with screenwriter Nicole Holofcener (Oscar nominated for Can You Ever Forgive Me?), Affleck and Damon wrote the film's script. The three worked together, using Eric Jager's book The Last Duel: A True Story of Crime, Scandal, and Trial by Combat in Medieval France as the basis for their story.
Affleck and Damon's professional collaboration goes back to 1989 when they both appeared as extras in the Kevin Costner drama Field of Dreams. After becoming friends, the pair landed major roles in 1992's School Ties. It was their script for 1997's Good Will Hunting that really launched their careers, and in March the following year they were awarded the Oscar for Best Screenplay.
Director Ridley Scott spoke of his enthusiasm for working with Affleck and Damon.
"I love working with Matt, so it was an added bonus to be able to work with him and Ben as both actors and as screenwriters, along with Nicole Holofcener, and I knew it would be a great result," the veteran filmmaker said.
Scott also found time to heap praise on Jodie Comer.
"I had admired the show 'Killing Eve' and had been looking for the opportunity to present Jodie Comer with a challenging role," he revealed. "Her performance as Marguerite will make her one of the great actresses of her generation."
While the movie's title references the battle between Damon and Driver's characters, the film is heavily focused on Comer's Marguerite, examining the role of women in 14th century France. Affleck, Damon and Holfcener spoke of their desire to centre a woman in what might initially seem a very male story.
"This film is an effort to retell the story of a heroic woman from history whom most people haven't heard of," said the screenwriting trio. "We admired her bravery and resolute determination and felt this was both a story that needed to be told and one whose drama would captivate audiences the way it moved us as writers. As we further explored the story, we found so many aspects of the formal, codified patriarchy of 14th century Western Europe to still be present in vestigial ways (and in some cases almost unchanged) in today's society. We chose to use the device of telling the story from several characters' perspectives in order to examine the immutable fact that although often multiple people who experience the same event come away with differing accounts, there can only be one truth."
The Last Duel opens in Irish cinemas on October 15th.
You can watch the first trailer below.