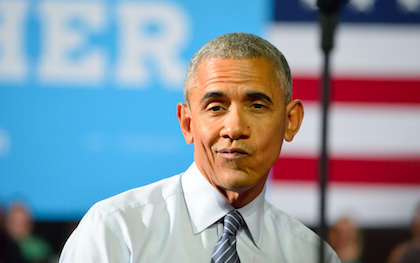 Continuing a tradition that he started during his Presidency, Barack Obama has just released some of his favorite songs for Summer 2021.
On Saturday, the former US President tweeted his annual "Summer Playlist", featuring a wide-range of music from artists like Bruno Mars, Rihanna, Anderson Paak's Silk Sonic, Bob Dylan, H.E.R., Migo, The Rolling Stones, SZA, Stevie Wonder, and more.
"With so many folks getting together with family and friends, there's a lot to celebrate this summer. Here's a playlist of songs I've been listening to lately - it's a mix of old and new, household names and emerging artists, and a whole lot in between," Obama captioned his tweet.
Brandi Carlile's "Speak Your Mind", Bob Dylan's "I'll Be Your Baby Tonight", and Bob Marley & The Wailers' "Exodus" were among the tracks featured on the playlist, rounded out by tracks from Silk Sonic ("Leave The Door Open"), Drake ("Wants and Needs"), and SZA ("Good Days").
Obama has never been shy about sharing his love of all kinds of music. Over the years the former president has shared numerous playlists with his constituents and with the world, including a recent shower-themed playlist featuring Bruce Springsteen's "Born in the USA".
"I sing in the shower, I sing outside of the shower. I am unembarassed about singing," Obama reported on his Renegades: Born in the USA podcast performance in March. "My daughters and my wife sometimes roll their eyes."
Last December Obama dropped two playlists featuring his "Favorite Music of 2020" - with picks from Bad Bunny, Dua Lipa, Lil Baby, and Megan Thee Stallion - and a playlist of songs that inspired him during his eight-year-long US presidency.
All of Obama's playlists are available for streaming on Spotify.