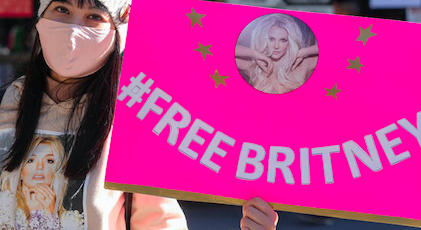 Pop-icons Mariah Carey, Miley Cyrus, Paris Hilton, and Katy Perry have reportedly started a legal fund to end Britney Spears' conservatorship
Britney Spears might have suffered yet another set-back in court but pop icons Mariah Carey, Miley Cyrus, Paris Hilton, and Katy Perry have reportedly started a legal fund to end Spears' conservatorship.
, Britney Spears has allegedly enlisted the aid of an army of A-list pop icons in her fight to bring her conservatorship to an end. The stars have reportedly established a 'fighting fund' to support Spears' legal battle.
The pop legend is currently in the middle of an ongoing fight to end the conservatorship agreement that has governed her personal, professional, and financial life since 2008.
Her father, Jamie Spears, was granted control over his daughter's affairs by court order over a decade ago.
Control was shifted to her father after the singer was hospitalized in 2008 following concerns around her mental health and wellbeing.
Spears recently appeared in count to petition a judge to have her father removed from her conservatorship citing invasive control over her personal and professional life. Her request was subsequently denied, leading to outrage among fans worldwide.
The star battles on, however, and now she has re-enforcements on her team.
Heat Magazine reported that a collection of A-list stars have lined up to aid the pop princess in her battle against the "abuse" restrictions of her conservatorship.
Miley Cyrus joins Paris Hilton and Katy Perry in backing Spears in her fight. Additionally, Christina Aguilera, who starred alongside Spears in The Mickey Mouse Club, has also joined the fold.
Britney's ex Justin Timberlake has also allegedly expressed his support.
Mariah Carey has also pledged her support after hearing about Spears' suffering during her court date.
An unnamed source reported: "Britney has a lot of famous friends and they are desperate to help.
"They are all offering to help and they are in touch, they are offering what advice they can.
"They have also offered to set up a legal fund."
News of their support comes just days after Britney's manager announced that he will be stepping down after guiding the star's career for the last 25 years.
Larry Rudolph, the man who helped Spears secure her first recording contract, said that his decision to resign follows after the star expressed her "intention to officially retire".
Spears' intention to retire comes two weeks after she reported that she had been forced to perform against her will under her conservatorship.
Rudolph announced his resignation in a letter to Spears' father and co-conservatory Jodi Montgomery.
"It has been over two and-a-half years since Britney and I last communicated, at which time she informed me that she wanted to take an indefinite work hiatus," Rudolph wrote.
"Earlier today, I became aware that Britney had been voicing her intention to officially retire. As her manager, I believe it is in Britney's best interest for me to resign from her team as my professional services are no longer needed," he added.