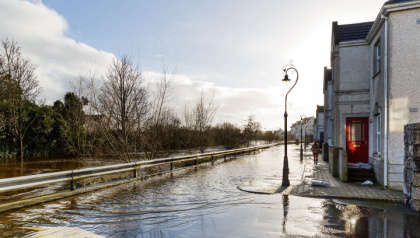 Met Éireann have revealed that nine weather stations broke their maximum temperature records for October, with Cork Airport weather station recording it highest October rainfall numbers on record last month.
According to a monthly climate statement, rainfall was reported to have been above average in the midlands, along with the east and south of the country in October.
Cork Airport have said that 307.22 mm of rainfall was recorded for that month, with the station also recording wettest day on 18 October with 55.6 mm, its highest fall for this month since 1995.
Several places in Cork broke records, with Roches Point recording its wettest October for 19 years. Moore Park certainly stands out in this regard, having recorded its wettest October for a staggering 59 years.
"The south especially in the south and southeast and east had well above average rainfall, especially the south", Met Éireann Climatologist Paul Moore said. "And then the northwest, a lot of stations in the northwest had below average rainfall for October".
"And nine stations around the country have had over 100% of their annual rainfall already with two months to go, so it has been a wet year so far".
Mr Moore also added that this weather is showing no sign of slowing down anytime soon.
The national forecaster have also revealed that 126.1mm of rainfall was recorded in Dublin Airport station, its wettest October in 10 years.
October's lowest monthly rainfall was recorded in Finner, Co. Donegal, with 92.0mm.