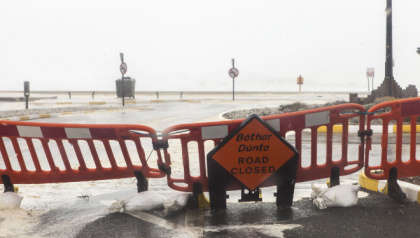 Ireland is feeling the effects of Storm Debi, with over 100,000 homes and businesses left without power this morning, an ESB spokesperson has confirmed.
A Status Yellow wind and rain warning remains in Ireland until 3pm today, as the storm leaves a trail of damage and disruption in its wake.
This comes after a Status Red wind warning, which was left for east Galway, Roscommon, Kerry, Limerick, Tipperary, Clare, Dublin, Kildare, Laois, Louth, Meath, Wicklow, Offaly and Westmeath expired earlier this morning.
According to a spokesperson for the ESB, over 100,000 homes and businesses have been left without power. This is a number which is expected to rise as the storm reaches its peak.
The spokesperson also added that ESB Network crews will respond to all outage calls as soon as its safe to do so, following an increase in calls from the public during the morning.
Met Éireann have also warned that strong gusts could lead to damage to exposed and vulnerable structures, leading to dangerous travelling conditions, and disruption to services and power line damage.