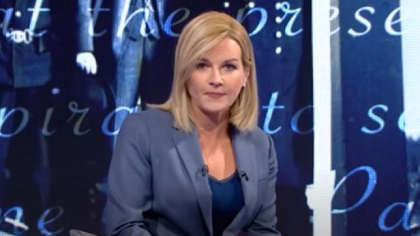 Claire Byrne is considering whether to quit her TV show, despite its success, as she worries over lost time with her family.
TV and radio presenter, Claire Byrne has a busy time trying to juggle her industry requirements and raising three kids. However, Claire is now considering taking a step back from some of her commitments as she has had a stressful 2021, stemming from her father's death.
Admitting to coming to a crossroads, Claire worries over the amount of time she misses spending with her children as they grow up. The presenter knows just how privileged she is to have such a prestigious career, although laments the exhaustion that comes as she prepares her many roles.
Speaking in an interview with the RTÉ Guide, Claire discusses her children's complaints at her having to go back out to work for Claire Byrne Live on Monday nights. The presenter admits trying to rationalise things by telling herself; "lots of mammies and daddies have to work every night and this is just one night".
However, despite vindicating her actions, Claire still feels the guilt of missing out on time with her children. These thoughts may have an affect the future of Claire Byrne Live, as the presenter admits to the need to decide whether or not to continue with her show.
"So, it comes back to that choice, that decision. And because Claire Byrne Live is performing so well in its time slot, the final decision will most likely be mine. That's the crossroads I'm at."
Following a chat with bosses at RTÉ, Claire realises that her workload is not sustainable and does not want to miss out like major presenters before her. In his final years, Gay Byrne said he wished he had spent more time with his family during his early career. Following the death of her father, Claire realises this fact even more as things are brought into perspective.
"And in the lead up to my father's death, and ever since, I've been thinking that life is really short: 80-odd years or so. I'm more than halfway there."