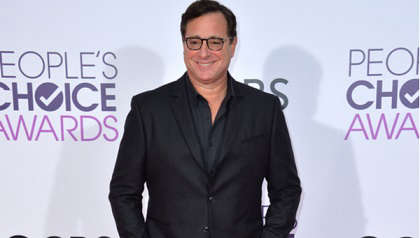 Tributes have been paid to the late comedian Bob Saget who passed away aged 65.
Bob Saget was known for playing single father of three Danny Tanner in the 80s and 90s sitcom Full House. He also starred in the Netflix sequel Fuller House.
He is also celebrated for his work as narrator for How I Met Your Mother and for his role in HBO show Entourage.
His comedy album "That's What I'm Talking About" also earned Saget a Grammy for Best Comedy Album, while he also hosted America's Funniest Home Videos from 1989 to 1997.
Saget had performed a comedy show in Jacksonville, Florida the night before his died, as part of his nationwide stand up tour. It was set to run until June 2022.
"I had no idea I did a two hour set tonight. I'm back in comedy like I was when I was 26. I guess I'm finding my new voice and loving every moment of it,", Saget wrote via Instagram.
"Goin' everywhere until I get the special shot. And then probably keep going cause I'm addicted to this shit. Peace out".
The star is survived by his wife Kelly RIzzo and his daughters Lara, Aubrey and Jennifer.
Tributes have poured in following his death.
John Stamos who starred alongside Saget in Full House had this to say.
I am broken. I am gutted.  I am in complete and utter shock.  I will never ever have another friend like him.  I love you so much Bobby.

— John Stamos (@JohnStamos) January 10, 2022
How I Met Your Mother star Josh Radnor also added this via Twitter.
I had so much imposter syndrome when HIMYM started, thought I'd be found out, kicked off set & sent home. When I'd run into Bob on the Fox lot in those early days he'd gush over my performance & tell me how he was studying me to make sure his vocal performance felt right. 2/7

— Josh Radnor (@JoshRadnor) January 10, 2022
There are people who leave the earth and you're haunted by all the things you didn't tell them, all the love that was unexpressed. Luckily that wasn't the case with Bob. We adored each other and we told each other. 6/7 https://t.co/U3WITMhP1C

— Josh Radnor (@JoshRadnor) January 10, 2022
Other tributes include:
I just can't believe it. What a wonderful guy. He always went out of his way to make me comfortable and talked nonstop about his kids. Such a loss 💔 pic.twitter.com/Yr6C3R4lEW

— Kat Dennings (@OfficialKat) January 10, 2022
Still in shock. I just spoke with Bob a few days ago. We stayed on the phone as usual making each other laugh. RIP to friend, comedian & fellow Aristocrat Bob Saget. pic.twitter.com/TDKT8JoULq

— Gilbert Gottfried (@RealGilbert) January 10, 2022
Lost a great guy and a friend.
RIP Bob Saget https://t.co/xWse8pNqCk

— Guy Fieri (@GuyFieri) January 10, 2022