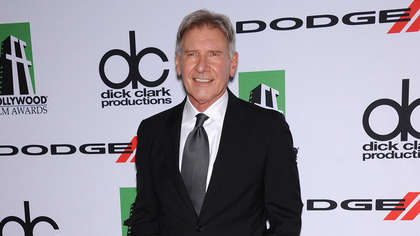 The Scottish city's streets have been transformed as filming commences on the latest instalment of the Indiana Jones saga.
It's goodbye battered Mars bars, hello bagels as Glasgow's streets have been given a makeover to resemble those of 1969 New York.
Filming began in Glasgow over the weekend on a sequence involving a parade to celebrate the return to Earth of the Apollo 11 astronauts.
Part of the filming appeared to involve a chase scene, with a body double for Harrison Ford seen riding a horse through the streets. At one point the stuntman rode through a banner that read "A giant leap for mankind" in reference to the famous words spoken by astronaut Neil Armstrong during the moon landing.
Actor Boyd Holbrook's body double was also called into action and was seen riding a motorbike as part of the sequence.
An unidentified actor required attention after taking a fall during filming of the chase scene. After being briefly checked out by a medical crew, the actor rose to his feet and waved to onlookers.
The scene, which involved hundreds of extras, was shot on the city's St. Vincent Street and in a car park near the Ibrox football stadium.
Members of the public were allowed to watch from behind barriers, however one young fan chanced his arm at making his own cameo when he disrupted filming by rushing onto the set. He was immediately tackled by security and subsequently arrested.
A police spokesperson said "Officers in Glasgow arrested a 17-year-old teenage boy following a disturbance on Renfield Street around 3.20pm on Saturday, July 17," in reference to the incident.
Last week Phoebe Waller-Bridge was spotted in Glasgow, along with the film's director James Mangold, who most recently helmed Le Mans '66 and The Greatest Showman.
Filming in Scotland is expected to last until July 31st.
One star who won't be taking part in this leg of filming is the movie's leading man. Harrison Ford has been sidelined until at least September after the 79-year-old suffered a shoulder injury last month as shooting began. Taking time off while in the UK, the superstar was spotted at Sunday's British Grand Prix at Silverstone. Also in attendance was Tom Cruise, who is currently based in the UK while filming the latest Mission Impossible sequel. Ford was recently nabbed by an elderly fan while shopping at a branch of Selfridges. The actor gladly posed for a picture with the woman, which soon went viral on social media.
The film's cast also includes Mads Mikkelsen, Thomas Kretschmann, Shaunette Renée Wilson and Toby Jones. Antonio Banderas was recently announced as joining the ensemble. Legendary composer John Williams returns to the franchise, having scored every previous movie in the series.
The script is courtesy of brothers Jez and John-Henry Butterworth, who have previously collaborated on such films as Le Mans '66, Get On Up and Edge of Tomorrow. While Steven Spielberg has passed on the directing reins to James Mangold, he stays on as producer this time.
Making his debut in 1981's Raiders of the Lost Ark, the character of Indiana Jones was conceived by George Lucas as a love letter to the action serials of his youth. With his iconic fedora, leather jacket and bullwhip, not to mention that unforgettable theme tune, Indiana Jones became an instant classic character, quickly returning in 1984's Temple of Doom. A third film, The Last Crusade, followed in 1989, with Ireland's Alison Doody appearing as a love interest for both Indy and his father, played by Sean Connery. The series lay dormant for two decades until 2008, when The Kingdom of the Crystal Skull recaptured the box office magic, if not critical acclaim.
It seemed that would be the end for Indiana Jones, but remarkably Ford is back in the leather jacket and fedora as he approaches his 80th birthday.
Indiana Jones 5 is set for a cinema release in summer 2022.