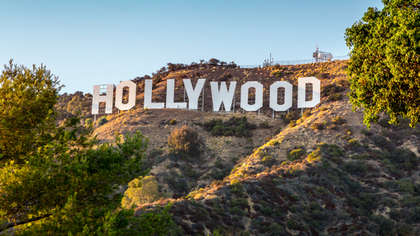 Hollywood is preparing itself for a major strike by crews fed up with the film industry's brutal working conditions.
The pandemic caused major problems for Hollywood, with productions shut down and releases delayed. Now Tinseltown is preparing for more trouble with crews expected to stage a major strike.
When you think of Hollywood you probably think of glamorous stars making millions and enjoying a life most of us envy. But that's far from the case for the majority of people who work on Hollywood's film and TV productions, with film crews enduring some of the most gruelling working conditions in the western world.
This has been exacerbated since productions resumed after the pandemic forced many to shut down. Below the line employees are finding themselves working 20 hour days in order to catch up. With streaming services like Netflix and Disney+ there's a greater demand for content than ever before, leading to extra pressure on employees.
In recent months members of the International Alliance of Theatrical Stage Employees, the main union for Hollywood's thousands of employees, have begun to speak out about conditions in the industry.
Lighting technician Ben Gottlieb created IATSE Stories, an Instagram page that highlights some of the horror stories of those employed in the industry.
"I think a lot of people are reaching a breaking point," Gottlieb said in response to the popularity of his page among workers.
"Our crews realise the studios are pushing the limits in terms of health and safety by working excessive hours," said Steve Dayan, secretary-treasurer of Teamsters Local 399, a union that represents various Hollywood workers. "There used to be seasons, so people who worked in TV could take a break, but now, because of streaming, you don't have that anymore."
IATSE is expected to authorise a strike in the coming days after reaching an impasse with the Alliance of Motion Picture and Television Producers (AMPTP). The strike would be carried out by 13 local unions in Los Angeles which represent up to 45,000 employees of the film and TV industry.
"It certainly has not felt like the employers see us as humans, and recognise or acknowledge the real human toll that the current working conditions in the industry take," said Marisa Shipley, an art department coordinator who is vice president of one of the unions involved. "I do hope that so many crew members speaking out makes a difference, and they hear us."
IATSE is made up of over 150,000 "below the line" workers, those workers whose names only appear in the scrolling credits at the end of a movie or TV show. They include such roles as editors, art directors, electricians and hairstylists. If you stick to the end of any credits you'll see IATSE's logo.
Long working hours have gone unquestioned for decades in the industry, but since the resumption of production post-pandemic, workers are no longer accepting such conditions. A regular working day on a film or TV shoot is 12 hours but many workers are reporting being forced to work up to 20 hours without a break, often outdoors in harsh weather conditions. It's not uncommon for workers to become addicted to drugs like cocaine, which they use to help stay awake through such demanding shoots.
Dayan claims he once worked for 36 straight hours on a production.
"In the era that I came up in, that was the mindset, you worked whatever it took to get the job done," Dayan said. "Going from a day schedule to a night schedule, and then going back to a day schedule, and you're outside and in the elements a lot of the time — all of those things take a toll."
In 1997 the long hours of Hollywood employees was highlighted when Brent Hershman, a camera operator, died after falling asleep at the wheel following a 19 hour working day on the film Pleasantville. Despite a high profile wrongful death lawsuit, nothing changed in the industry.
Over the weekend IATSE members voted on whether or not to take strike action. The results of the vote are expected to be announced later today, Monday, October 4th.