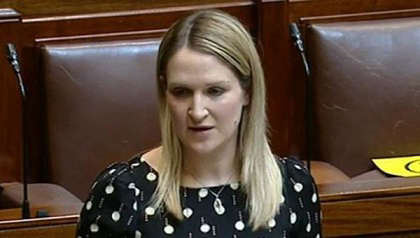 Minister for Justice Helen McEntee has condemned the recent violent incidents in Galway City.
This minister was speaking about these incidents, which occurred over the weekend.
Such assaults have seen four people rushed to hospital, following a serious disturbance at Galway City Centre, after a car was driven at speed into a crowd of people.
The incident which was shared online, involved a large number of people, as bystanders watched on.
Four people were taken to hospital, two sustaining non-life threatening injuries, with the other two being treated for suspected stab wounds. No arrests have been made at this stage.
Other people involved in the incident were spotted repeatedly hitting vehicles with sticks and pipes, while people were also spotting taunting and striking each other a short distance away.
Another assault took place in Galway City on Friday afternoon, which saw several men involved in a brawl on Williamsgate Street at approximately 3pm. Five people were arrested at the scene, and the men were all charged, before appearing in Galway District Court on Friday evening, and Saturday morning.
This incident which took place along Headford Road, is one of many which has been condemned by the Justice Minister Helen McEntee, who has called it "completely unacceptable".
It is understood that these two altercations have emanated from an ongoing feud between several families in the city.
Mayor of Galway Eddie Hoare has also condemned the attacks, adding that they have given the local residents a cause for concern.
He also stated that Minister McEntee is keen to provide any additional resources necessary to counter the violence, adding that the Garda Public Order Unit could be deployed if necessary. He is expected to meet with Helen McEntee to discuss the recent incidents today.