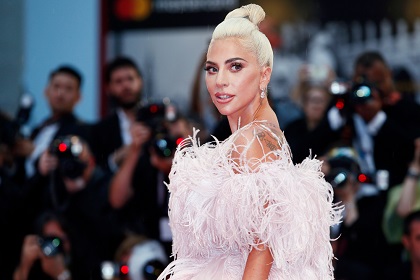 Pop sensation, Lady Gaga has bravely come forward to share her ordeal of being raped by a record producer. The Oscar winner opened up on her horrifying experience on Oprah Winfrey and Prince Harry's show, The Me You Can't See.
Speaking to Winfrey in 2020, the American singer, songwriter, and actress revealed that she "never dealt with" the horrifying experience. "All of a sudden I started to experience this incredible intense pain throughout my entire body that mimicked the illness I felt after I was raped."
Gaga, who's real name is Stefani Joanne Angelina Germanotta, explained how at the age of 19, a producer told her to "take your clothes off". When the teen refused to cooperate, she had been told that her all of her music would be destroyed. As she broke down in tears, the singer explained that she will never name the producer in question.
"And they didn't stop asking me and I just froze and I ... I don't even remember", Gaga recalled. "And I will not say his name. I understand this #MeToo movement, and I understand a lot of people feel really comfortable with this. I do not ever want to face this person again. This system is so abusive, it's so dangerous."
Years later, the singer experienced a "total psychotic break" and was in an "ultra-state of paranoia", leading her to cancel numerous dates of a world tour. Gaga checked herself into the hospital but was greeted by a psychiatrist, "and I said, 'Bring me a real doctor.' I said, 'Why is there a psych here, I can't feel my body.' I felt full-on pain, then I went numb".
"And then, I was sick for weeks and weeks and weeks and weeks after and I realized that it was the same pain I felt when the person who raped me dropped me off pregnant on the corner [outside] my parents' house, because I was vomiting, and sick. 'Cause I'd been being abused. I was locked away in a studio for months."
Gaga continued to recount her healing process, saying that she continued to live in an "ultra-state of paranoia". She had a "total psychotic break" and described herself as being "not the same girl" for a couple of years.
"The way that I feel when I feel pain is how I felt after I was raped. I've had so many MRIs and scans, they don't find nothing, but your body remembers," Gaga explained. "I couldn't feel anything. I dissociated. It's like your brain goes offline and you don't know why no one else is panicking but you're in an ultra-state of paranoia.
"It's a really very real thing to feel like there's a black cloud that is following you wherever you go, telling you that you're worthless and should die, and I used to scream and throw myself against the wall. And you know why it's not good to cut? You know why it's not good to self-harm? 'Cause it makes you feel worse."
Gaga explains in the interview that things were finally changing after more than two years, though fans would not know. This may be the first time the singer has disclosed so much but, all of this work was being done while she continued to perform.
Approximately two years after surviving her abuse, Gaga went on to release her debut album, The Fame in 2008, becoming a global success. The star released an incredible five US #1 albums since and starred in her Oscar-nominated lead role in 2018's A Star Is Born.
Gaga first discussed the attack with radio DJ Howard Stern in 2014, saying: "I was a shell of my former self at one point." In 2015, she said: "I didn't tell anyone for I think seven years. I didn't know how to accept it. I didn't know how to not blame myself or think it was my fault. It changed who I was completely. It changed my body, it changed thoughts."
Gaga reveals in the new interview that her trauma led her to experience instances of self-harm and psychotic episodes. "You think you're gonna feel better 'cause you're showing somebody: 'Hey, look I'm in pain.' It doesn't help," she said. "I always tell people: 'Tell somebody. Don't show somebody'."
Gaga is one of many celebrities taking part in the new show, which has been called "powerful but frustratingly unambitious". The show, which also features Winfrey, Prince Harry and Glenn Close, is streaming on Apple TV+ from today.
Pic: Andrea Raffi