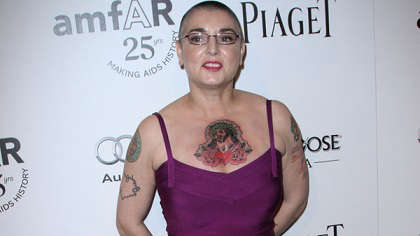 Sinead O'Connor has revealed that she was admitted to hospital just days after the tragic death of her son Shane.
Sinead's son Shane whose father is Irish singer Donal Lunney, was sadly found dead last week after leaving Tallagh Hospital where he had been admitted for care.
Sinead had previously taken to Twitter to say that she believes "Shane's death was no one's fault but my own".
Sinead had also confirmed that her son was Hindu, and had requested in a suicide note that he is given a traditional funeral, with only his parents attending the service.
The Nothing Compares 2 U singer has recently posted some distressing messages on social media.
"Sorry I upset anyone"
Having deactivated her Twitter account, O'Connor returned to the site to assure fans regarding her safety.
"I am with cops now on way to hospital. I'm sorry I upset everyone", she said.
So many people have since posted supportive messages to the grief stricken O'Connor, with one writing, "You have people who care about you. It's tough and healing takes time. I'm sorry".
"If I could take your pain away Sinéad I would but I can't", another added. "Please know you are loved and the world is a better place with you in it. Sending u love and strength".