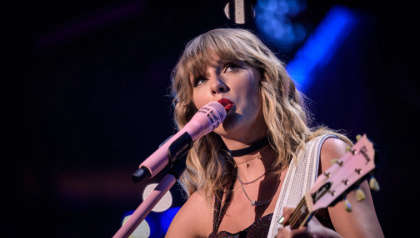 Taylor Swift delivered an emotional rendition of the track 'Bigger Than The Whole Sky' at Brazil, as part of her Eras Tour, following the tragic death of concert attendee Ana Clara Benevides on Friday.
According to media outlets in the country, it is reported that college student Benevides "fainted" just before the concert was due to take place on Friday, and was "resuscitated at the stadium for about 40 minutes".
Sadly, the student suffered a second cardiac arrest on the way to hospital, and was pronounced dead shortly after, which led to Swift postponing Saturday's show to Monday.
"I can't believe I'm writing these words but it is with a shattered heart that I say we lost a fan earlier tonight before my show", the singer added in a statement. "I can't even tell you how devastated I am by this".
Reacting to this sad news, Benevides' father stated, "I lost my only daughter, a happy and intelligent girl. She was about to graduate in psychology next April, saving money".
"I have no words to express my pain. She left home to fulfill a dream and came back dead".
Swift Pays Sweet Tribute To Fan
Returning to the stage at Estádio Nilton Santos in Rio de Janeiro, Taylor Swift performed 'Bigger Than The Whole Sky', in memory of the college student.
"Goodbye, goodbye, goodbye / You were bigger than the whole sky," Swift sang, as she played the piano. "I've got a lot to live without / I'm never gonna meet / What could've been, would've been / What should've been you".
Following Benevides' tragic death, many music fans attending these shows have spoken about the dangerous conditions in Brazil, amid the country's heatwave.