Competition live: 17th-21st June
Tune in to the Nikki Hayes Show all this week for your chance to win an incredible prize from Hampers & Co
We are giving away a:
Picnic Basket Hamper EVERY DAY which includes:
Full Wicker Classic Picnic Basket
A Set of 4 Stainless Steel Cutlery Ceramic Plates x 4
4 x Melamine Wine Glasses, 1 set of Salt & Pepper Shakers, 1 Corkscrew
Zipped Cooler bag included in basket
Keoghs Dubliner Chorizo & Cherry Tomato Gourmet Crisps
Cooleeney Camembert Farmhouse Irish Cheese
Crossogue Apple Chutney (Gold Award Winner)
Foods of Athenry Honeyed Almond & Rosemary Soda Bread Toasts (Great Taste Award Winner)
Forest Feast Emerald Mountain Trial Mix
Lily's 70% Dark Belgian Chocolate Premium Sharing Pouch
Grahams Bakery Irish Oatmeal Cookies
Blue & Cream Fleece Picnic Blanket With Waterproof Backing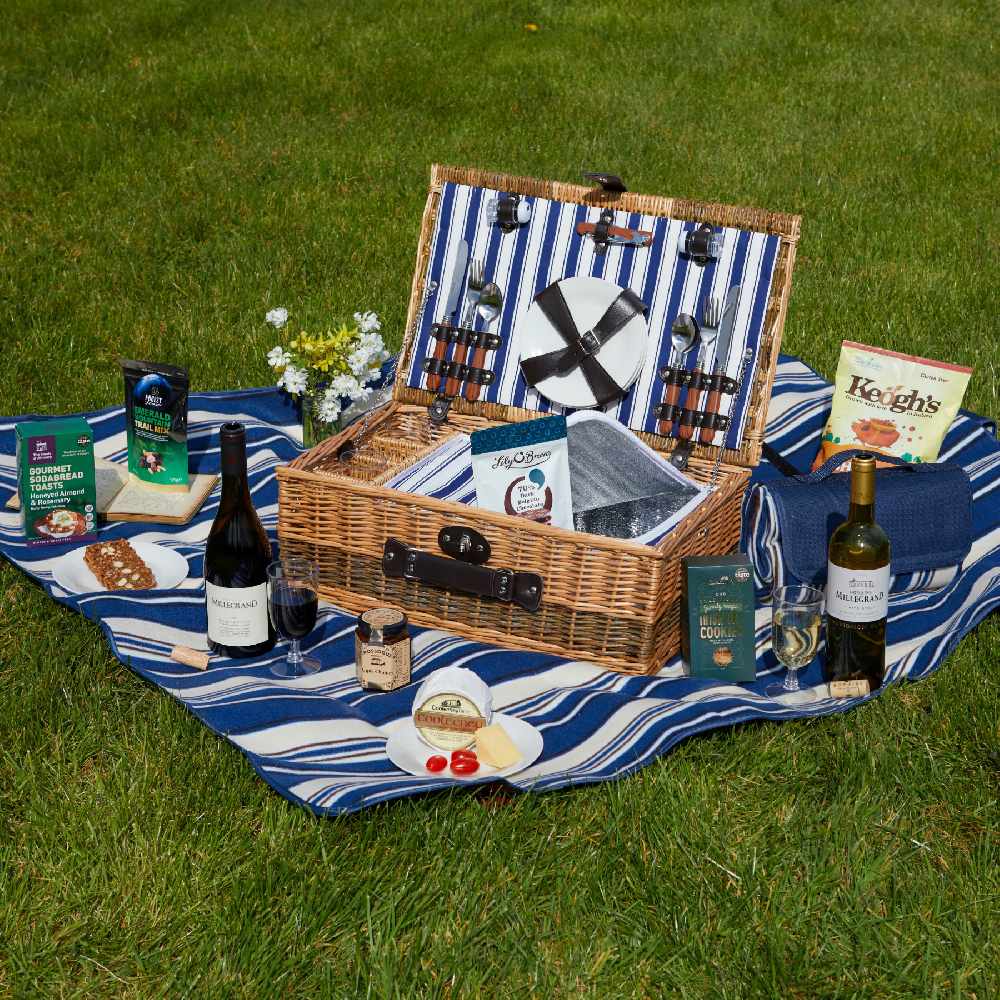 For gastronomes to gin connoisseurs, from those with a sweet tooth or someone deserving of a pampering, there is a bespoke hamper to suit, available to order online from Hampersandco.com
Enjoy Posh Picnics with Classic Picnic Baskets , Irish Gin Gift Box, Barista Coffee Gift Box, the Pamper Hamper, the Irish Craft Beer Crate and the Ready Made Chef Gift Crate, Grown Up Chocolate Hamper to name but a few.
The extravagant selection of unique hampers are delivered next day & can be shipped worldwide.
The hampers are presented in a choice of packaging produced exclusively for Hampers & Co, which includes handmade and hand-painted wooden crates, stunning signature gift boxes and high quality leather strapped wicker baskets.
Hampers & Co's extensive knowledge of worldwide shipping ensures that recipients receive their gift in perfect condition no matter what part of the world they live in.
The extensive Hampers & Co collection can be viewed online at hampersandco.com and orders can be placed online, over the phone or by email.