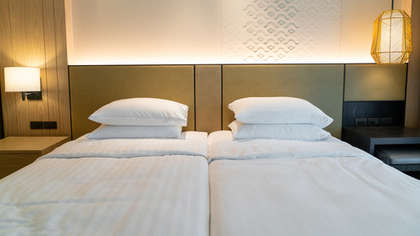 Over 4,500 new hotel rooms are set to open their doors in Dublin over the next couple of years.
That's according to a report by property firm Savills, which claims 24 new hotels are to open in the capital in the next two years.
The report shows that prior to the pandemic, Dublin was unable to meet the demand for hotel rooms. Savills say this caused damage to Dublin's ability to compete with other European cities as a tourist destination.
Savills' report also showed that over 5,700 homeless people are availing of emergency accommodation in Dublin.
Tom Barrett, Director of Hotels and Leisure at Savills Ireland, welcomed the news of the planned hotels.
"Overall, extra bedrooms will allow for growth in the industry and some of these are new brands," he said.
He highlighted how the new hotels will offer budget options for tourists.
"Dublin would have been very under-represented in terms of budget hotels in terms of StayCity, Premier Inn, there's a wide range of those rooms coming to Dublin City Centre."
This summer will see the opening of several new hotels in Dublin, including the Hampton by Hilton Four Courts, Beckett Locke in the North Docklands, The Wren between Grafton Street and Dame Street, and Keavan's Port Hotel on Camden St.