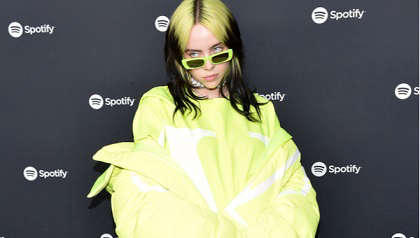 Billie Eilish will appear in a new episode of the Simpsons, titled 'When Billie Met Lisa'.
In an episode which will feature Billie Eilish and her brother Finneas, it will air on April 22 and will see Eilish and Finneas inviting Lisa Simpson to a studio jam session.
This will be the forth short to be released by the Simpsons to Disney. These include the Marvel-inspired 'The Good, The Bart, And The Loki', the Star Wars themed 'Maggie Simpson in The Force Awakens From Its Nap', and 'The Simpsons in Plusaversary' to celebrate Disney Day on November 12.
A synopsis for this latest short featuring Eilish reads, "In 'When Billie Met Lisa,' Lisa Simpson is discovered by chart-topping artists Billie Eilish and Finneas while searching for a quiet place to practice her saxophone. Billie invites Lisa to her studio for a special jam session she'll never forget".
Billie is guest starring in @TheSimpsons: "When Billie Met Lisa", the new short streaming April 22 on @disneyplus. pic.twitter.com/baLe70Gxad

— billie eilish (@billieeilish) April 14, 2022