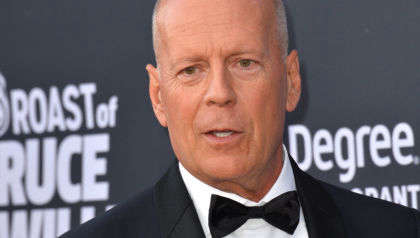 Bruce Willis' wife Emma Hemming has shared a heartfelt video about the reality of living with a loved one who is suffering with dementia.
The actor was diagnosed with frontotemporal dementia last month, having been previously diagnosed with asphasia, forcing the Die Hard star to retire from acting.
Hemming has been documenting a day in her husband's life since his diagnosis, and she has taken to Instagram to speak frankly about the sad reality of the situation.
"I have started the morning by crying as you can see by my swollen eyes", Hemming wrote. "I always get this message where people always tell me, 'Oh you're so strong. I don't know how you do it.' I'm not given a choice. I wish I was but I'm also raising two kids in this".
Hemming added that "sometimes in our lives, we have to put our big girl panties on and get to it, and that's what I'm doing. But I do have times of sadness every day, grief every day and I'm really feeling it today on his birthday".
Hemming later took to Instagram to share a montage video of the pair during happier times, soundtracked by Stevie Wonder's track 'As', celebrating Bruce's birthday.
"He is pure love. He is so loved. And I'll be loving him always. Happy Birthday my sweet," she wrote. "My birthday wish for Bruce is that you continue to keep him in your prayers and highest vibrations because his sensitive Pisces soul will feel it".
Check it out below.