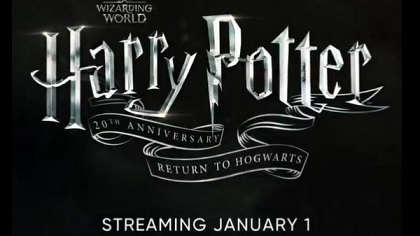 HBO Max said the Return to Hogwarts will be released on 1 January 2022 - making a magical start to the New Year.
Harry Potter fans are in for a magical New Year as original cast members reunite for the 20th anniversary TV special. Daniel Radcliffe, Emma Watson, and Rupert Grint will join American filmmaker Chris Columbus to discuss the films and explore their creation in depth.
Return to Hogwarts is set to air January 1st, 2022, on HBO Max in celebration of the first film, Harry Potter and the Chamber of Secrets. However, one person who will not be marking this milestone of the epic fantasy is its creator, JK Rowling.
Although the 56-year-old novelist had a considerable influence on the films - shooting in Britain with an all-British cast – she is not included in the special. The news follows the controversial comments Rowling made about the trans community last year.
Marking exactly 20 years since the original film's release, November 16th, 2001, the special invites fans "on a magical first-person journey through one of the most beloved film franchises of all time", HBO Max said.
Executive producer Casey Patterson said there is "magic in the air here with this incredible cast, as they all return home to the original sets of Hogwarts, where they began 20 years ago. The excitement is palpable as they prepare to take their fans on a very special and personal journey, through the making of these incredible films."
Key characters in the stories, Helena Bonham Carter, Robbie Coltrane, Ralph Fiennes, Jason Isaacs, Gary Oldman, Imelda Staunton, and Tom Felton, are also set to join. Felton, who portrayed flaxen-haired villain Draco Malfoy, urged fans to save the date as he shared the trailer on Twitter. He wrote: "Is this what school homecoming is like? Mark your calendars for New Year's Day #ReturnToHogwarts, streaming on @hbomax x."
is this what school homecoming is like? mark your calendars for New Years Day #ReturnToHogwarts , streaming on @hbomax x pic.twitter.com/FQ38VB1fBb

— Tom Felton (@TomFelton) November 16, 2021