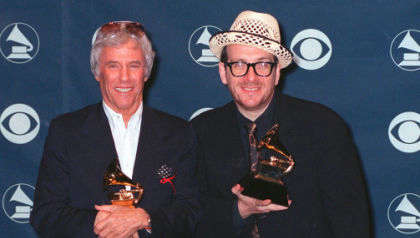 Fans have been paying tribute to the late composer Bert Bacharah by reminiscing about his cameos in Austin Powers: International Man Of Mystery.
Bacharach who collaborated with music legends like Tom Jones, Dusty Springfield, Dionne Warwick, and Aretha Franklin, passed away from natural causes in his LA home. He was 94 years old.
Following this, people have been paying homage to Bacharach, by sharing clips of his famous cameo which arrived midway through 1997's Austin Powers: International Man Of Mystery, where he appears alongside actress Elizabeth Hurley.
You can check it out for yourself below.
Bacharach also appeared in other Austin Powers movies including Austin Powers: The Spy Who Shagged Me and during the end credits of Austin Powers in Goldmember in 2000.
"I can't be the only person of a certain age who got properly introduced to him by way of the Austin Powers movies. One of the greats of pop music", one fan tweeted.
Another added, "Burt Bacharach randomly showing up in the Austin Powers movies will always be iconic. RIP legend".
See more tributes below.
This is how I'll choose to remember Burt Bacharach in this scene with him & Elvis Costello from Austin Powers: The Spy Who Shagged me. #BurtBacharach #RIPBurtBacharach #AustinPowers #ElvisCostello pic.twitter.com/cdSXNxUGza

— MOVIEDEATHS (@MOVIEDEATHBLOWS) February 9, 2023
RIP Burt Bacharach, the songwriting legend who wrote the original "My Little Red Book," which became a proto-punk classic as covered by Love, who penned immortal standards with Dionne Warwick, collaborated with Dre, and, of course, had the iconic Austin Powers cameo. pic.twitter.com/jk6mV79cSq

— Otto Von Biz Markie (@Passionweiss) February 9, 2023
Burt Bacharach randomly showing up in the Austin Powers movies will always be iconic. RIP legend. pic.twitter.com/GGsUeA3Sf6

— Jack Roskopp (@jackroskopp) February 9, 2023
"Ladies and gentlemen, Mr. Burt Bacharach."

This scene from Austin Powers of Bacharach playing "What the world Needs Now" in a tour bus on the Vegas strip as Austin woos Vanessa will live in my head forever. RIP, boss. https://t.co/TxO4r1ujZf https://t.co/eOVUMhm0kD

— Adrian Garro (@adriangarro) February 9, 2023