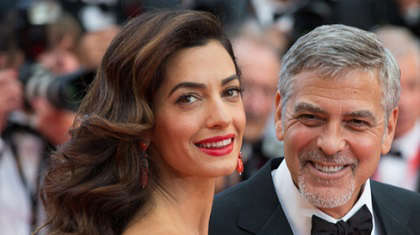 George and Amal Clooney have dismissed rumours that they are expecting are expecting a baby. The couple are already parents to four year old twins Alexander and Ella.
Are George and Amal Clooney expecting again? Pregnancy rumours across the internet today because of this photo: https://t.co/OSsv0b6lqj Do you think there's another little Clooney on the way? #Clooney #GeorgeClooney pic.twitter.com/ltttkXWVqo

— George Clooney (@ClooneysOpenHse) July 30, 2021
And now the couple were rumoured to be welcoming another baby into the world. The couple got married in Venice in 2014 and welcomed their twins three years later.
"The buzz is they're having twins again", a source had originally told OK Magazine. "Amal's said to be past her first trimester, and she's already starting to show, so soon enough, everyone will know".
They also added, "George was giddy with excitement and couldn't wait to tell everyone".
"Glowing"
Initially, an insider also said that this news "was met with well-wishes all around. George was so proud, and Amal was glowing".
"This is something both George and Amal really wanted, but at her age, there was no guarantee".
"It's so exciting. George has been open about wanting more kids, so getting two at once would be ideal!".
"Not true"
Since that rumour came to light, a spokesperson for the couple had this to say.
"Stories saying that Amal Clooney is pregnant are not true".