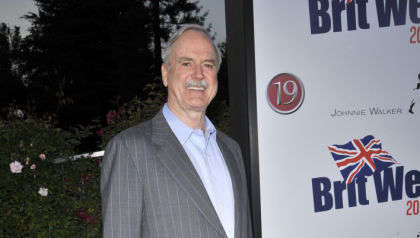 John Cleese has revealed that his remake of Fawlty Towers will not be shown on the BBC, as he feels the show will not get the "freedom" from the broadcaster.
Fawlty Towers which originally ran for two series' between 1975 and 1979, saw Cleese write and star in the original show, which aired on the BBC.
Earlier this week, Cleese announced a revival of the series, which would show him starring alongside his daughter Camilla Cleese, having agreed a deal with Classic Rock Entertainment.
Despite this, the Monty Python star has stated that the revival will not air on the BBC as he wanted "to deal with subjects that get people upset", and feels that this vision does not see eye to eye with the BBC.
The comic has been outspoken on the issue of "cancel culture" in entertainment, hitting out at the BBC, along with his alma mater Cambridge University in the past.
Cleese was asked by GB News' Dan Woottan if he would be bringing the Fawlty Towers reboot to the BBC, to which he replied, "No, because I wouldn't get the freedom. I was terribly lucky, Dan. I was working for the BBC in the late 60s, 70s and the beginning of the 80s".
John Cleese insisted that the period of the 1960s, 70s and 80s was "the best time because the BBC". Adding that "it was run by people with real personality who loved the medium and they were operating out of confidence, which was okay because there wasn't so much competition".
"Then John Birt came in and said if the BBC didn't match the viewing figures that the commercial channels were getting they'd get their license revoked. So then they started going for the biggest audiences and they tended to go for the lowest common denominator while always denying they were doing that", he continued.
"If you look at a paper now from 1985 and looked at the TV shows available that evening and compare what they are now – basically in Britain we've gone from what was a middle-class culture with all its failings to a tabloid culture, and that is why there is so much of this screaming at people".
"I want to deal with subjects that get people upset but I want to get sensible people with a sense of humour who will listen to each other and who will trade arguments instead of simply making speeches", Cleese added.
The Fawlty Towers reboot will see Rob Reiner and his wife Michele Reiner serve as executive producers alongside Derrick Rossi and Mathew George.