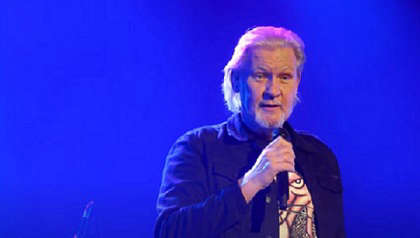 Irish Eurovision legend Johnny Logan has insisted that he has never been busier, following his recent appearance on Belgium's edition of The Masked Singer.
The 69 year old who is the only singer to have won the Eurovision Song Contest twice, once again hit the headlines after he appeared in the Belgian version of the Masked Singer recently.
Logan was disguised as a reindeer while on the show.
"The Masked Singer reinvented me in Belgium and the work flooded in after I was on the show", the Hold Me Now singer said. "I was told that I was the third most in-demand celebrity in Belgium behind Johnny Depp and Amber Heard".
Speaking about his costume, Logan claimed that wearing the reindeer outfit was a challenge.
"The costume was so intricate that the mask had to be put on an hour-and-a-half before I sang because it had to be attached to a body brace as it was choking me in the first show", he explained.
"The production company were wonderful and everybody on the show was brilliant, but by the time they guessed who I was on the fourth show I was happy to leave as I felt the costume was going to do me physical damage that I'd be living with for years afterwards.
"The honest reason I did The Masked Singer is because it was work during Covid".
"I lived in Antwerp for six weeks and they gave me an apartment and a car for that period", he added. "And because it was in May I could also drive up to Rotterdam to the Eurovision and do different TV shows".
"a charmed life"
Johnny Logan is currently busy supporting a fundraising drive in Ireland, to raise money for two 20 month old twins Cillian and Ronan O'Keefe from Mullingar, co Westmeath.
The pair are currently undergoing life saving treatment for a rare illness called Hurler Syndrome at Manchester's Royal Hospital. Having received chemotherapy, the twins are also having bone marrow transplants.
"I've had my ups-and-downs, but overall I've enjoyed a charmed life", Logan said.
This "charmed" life that Logan refers to, includes starring in a musical Adam and Eve, as well as working as an electrician and performing with Irish blues legend Rob Strong's band aged 18, which featured drummer Dan O'Keefe, Cillian and Ronan's grandfather.
"It was Danny who suggested me for the role and the rest is history. I gave up the electrician stuff for a life in showbusiness. I wasn't very good at the electrician gig, so giving it up was probably for the good of Ireland", Logan said.
"My heart goes out to Danny, who is devastated over his two beautiful young grandchildren and what they're going through".