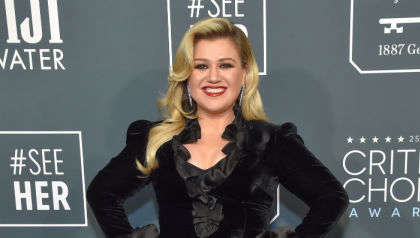 Kelly Clarkson has announced her brand new album 'Chemistry'.
Having revealed that she had been working on this album for "close to three years now", the singer has also insisted that new music will be arriving "really soon".
While there is no official release date, the Since You've Been Gone singer stated that the album will be out "soon", with new music "even sooner". "When I say soon, I mean really soon", she said of the album.
She may have been initialy unsure about releasing the album, but Clarkson now says she is "very excited".
Taking to social media, Kelly Clarkson also explained how the album's name 'Chemistry' came about.
"It's called 'Chemistry' because I was trying to find a word – also, it might be one of the songs on the album – that really described the whole thing", she said. "This album is definitely the arc of an entire relationship. A whole relationship shouldn't be brought down to just one thing. So there's the good, the bad, and the ugly kinda thing going on it".
"Chemistry can be a really amazing, sexy, cool, fun thing, but it can also be very bad for you. So, that's why I named it 'Chemistry'", she added. "I thought it was kind of the perfect title to describe the entire album".
Kelly Clarkson has also announced that she will be coming to Las Vegas for ten live performances, starting on July 28, and finishing on August 19.