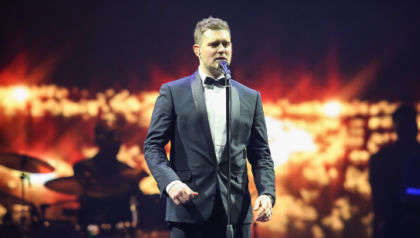 Michael Bublé has revealed that his son's cancer diagnosis "changed me in a big way" and "changed what mattered to me".
In November 2016, Michael Buble's son Noah was diagnosed with cancer. He was just 3 years old at that time. Thankfully, the youngster received the all-clear a year later following treatment.
In a recent interview, Michael Bublé spoke about how his son's diagnosis affected him.
"That, of course, changed me in a big way - it changed what mattered to me, it changed how I saw life", he said.
"For most of my life as an entertainer and, especially onstage, I'd become my alter ego", the singer continued. "I'd become the superhero I always wanted to be".
"Then my wife and I went through this unthinkable thing, and I lost that alter ego".
The Canadian singer explained how his family and his relationship with his wife, have gone from strength to strength over the years.
"More than anything, my wife and I understand that each other's fulfilment is important....", Bublé explained. "I'm not saying we're perfect - nobody is - but we both have that understanding".
"I won't be touring for certain months next year because she'll be filming a movie, and so I'll be Daddy on set, and then she'll do the same for me", he added. "We don't care what we do - being together is the goal".
Following Noah's recovery, his dad Michael Bublé wrote the song 'Forever Now', in tribute to his children.
"the best show"
Despite previously saying that he was unsure if he would make new music following his son's illness, Michael Bublé is excited to be back working in the studio, as well as his upcoming tour of Ireland and UK.
"I think this is the best show I've done in my life," he said. "I love the recording studio, and filming in front of a camera, but it's not the same as putting thousands of people in a room, who have all gone through a tonne and need that connection".
"What I want to be, without ever preaching, is a unifier. It's more than just singing songs or telling a joke. Especially given the times we're living in, I'm really trying to unify people and lift them up".
Noah is one of four children that Bublé shares with his wife Luisana Lopilato. He married the actress and composer in 2011.