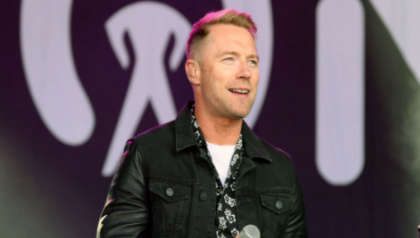 Ronan Keating has revealed that he was an "absolute mess" watching his son Jack enter the Casa Amore villa of Love Island.
Jack Keating is the eldest son from Ronan's first marriage to Yvonne Connolly. The 23 year old could also be spotted bonding with fellow Love Island contestant Gemma Owen over having famous parents. Gemma is of course the daughter of former English footballer Michael Owen.
"I'm a mess, an absolute mess", Ronan Keating said of his son Jack joining Love Island.
Ronan who is now married to Austrailian designer Storm, also revealed that Jack is missed by his younger sibilings in the house, and that his wife had been handling the situation better that him.
The singer was also asked if he had tried to dissuade his son from taking part in the show.
"You know the kids today they don't listen to us even if we did try and talk them out of it", he joked.
While advising his son to "be yourself and have a good time", Ronan Keating also admitted that he also wants "protect and look after him" as a parent.
"I wish him the best. I hope he does okay. He's got such a big heart and he's a real softy so I'm just worried about him in there with all those other guys".
When One Show co-host Jermaine Jenas even hinted that Ronan and Michael may become inlaws , the former Boyzone singer replied that they would be more like "outlaws".